Stratco verandahs melbourne
Available in three styles… choose from
Verandahs are a great investment for any home. You want your new outdoor space to last for years to come, which means that it's important to be mindful of the materials that will be used to construct your verandah.
WHAT IS A VERANDAH?
Verandahs have traditionally been found on the ground level of a home, and typically wrap around the building. Traditional verandahs were constructed to be a transitional space between the indoor and the outdoor areas, and are usually narrower than a patio or a pergola.
No matter where a verandah is placed, it is always covered. While generally it is placed in the front of a property, it can often extend to the side, or even wrap around the entire home. Australians have long utilised verandahs in their own homes, so much so that they're a staple in an Aussie build!
WHY YOU SHOULD CONSIDER AN OUTSIDE VERANDAH
Often, we focus on making our indoor spaces comfortable and cozy. But it's just as important to take the time and effort to create outdoor spaces that allow you to enjoy the great outdoors from the privacy of your home.
From the health benefits of taking in fresh air and being exposed to more green spaces, to creating beautiful family memories for the years to come, outside verandahs are a staple of a Melbourne home for a reason.
It adds value and versatility to the home, benefiting you and your family's lifestyle as a result.
OUTDOOR VERANDAH ROOF DESIGNS
Great verandah designs can take your humble verandah into a gorgeous outdoor living area that you'll love to spend your time in. Whether you're after a more traditional look, or want to take some style inspiration from modern verandahs, there are options for you.
Flat Roof Verandahs
After a simple look that goes with most home designs? Opt for a verandah with a flat roof. This will do wonders to add value to your home, and is available in a wide range of stylish colours and finishes that helps you to truly customise your verandah roof design.
Curved Roof Verandahs
If your home's aesthetic leans more towards a contemporary yet chic and sophisticated look, curved verandah roofs are perfect to help accentuate your home's design and keep that stylish aesthetic.
Gable Roof Verandahs
If you're after something a bit more unique, a gable roof for your verandah adds character to your home. Its open air vibe and unique look is a definite match for any home design.
Personalise It
Remember that the design you pick can also be personalised with additional exterior design elements. From beautiful outdoor seating, to climbing plants and pots of lush greenery, or colourful outdoor cushions and decor, there are a wide range of design ideas that can help elevate your verandah space and really make it your own.
But first, make sure to invest in the right choice, with high quality materials and weather-proof roofing.
VERANDAH BUILDERS MELBOURNE
If you're looking to install a veranda, look no further than Outdoor Impressions. With over fifty years of combined experience installing high quality Stratco Outback verandahs, you are guaranteed strength and longevity.
Choose from the Outback range to find a verandah that suits your home perfectly, and let our skilled team create the perfect outdoor living space.
We pride ourselves on our extensive range of products, and our commitment towards customer satisfaction. Contact our team today to get started on installing your new verandah!
VERANDAH GABLE
Exhibiting a strong presence and style, the pitched roof of an Outback Gable Verandah, Patio or Carport is endowed with an open feel that will enrich your home and outdoor entertainment area.
STRATCO GABLE VERANDAH, PERGOLA & PATIO INSTALLERS IN MELBOURNE
Exhibiting a strong presence and style, the pitched roof of an Outback Gable Verandah, Patio or Carport is endowed with an open feel that will enrich your home and outdoor entertainment area.
The Outback Gable is available as a freestanding unit or attached to the home. When you combine it with flat roof or pergola sections then the prominent pitched roof becomes the attractive central hub of your outdoor lifestyle.
Available in Multispan or Clearspan designs to suit your design choices. You can also enjoy natural filtered light by incorporating Outback Rooflites in the Outback Deck.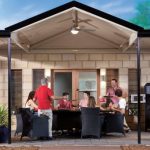 MULTISPAN
The Outback Multispan Gable creates space, improves ventilation and adds prestige to your home. It has an impressive gable design that is integrated with a traditional Flat Roof Outback.
The Multispan has been designed with flexibility in mind. It offers the flexibility to accommodate your choice of roofing materials and design options.
Whether it is polycarbonate to maximise light, traditional corrugated iron to match your home, or the smooth and glossy look of the Outback deck, the Multispan Gable can be tailored to suit your needs.
The gable is available with a 22 or 30 degree pitch and a maximum opening of 6.6m when attached at both ends, or 3m when attached at one end.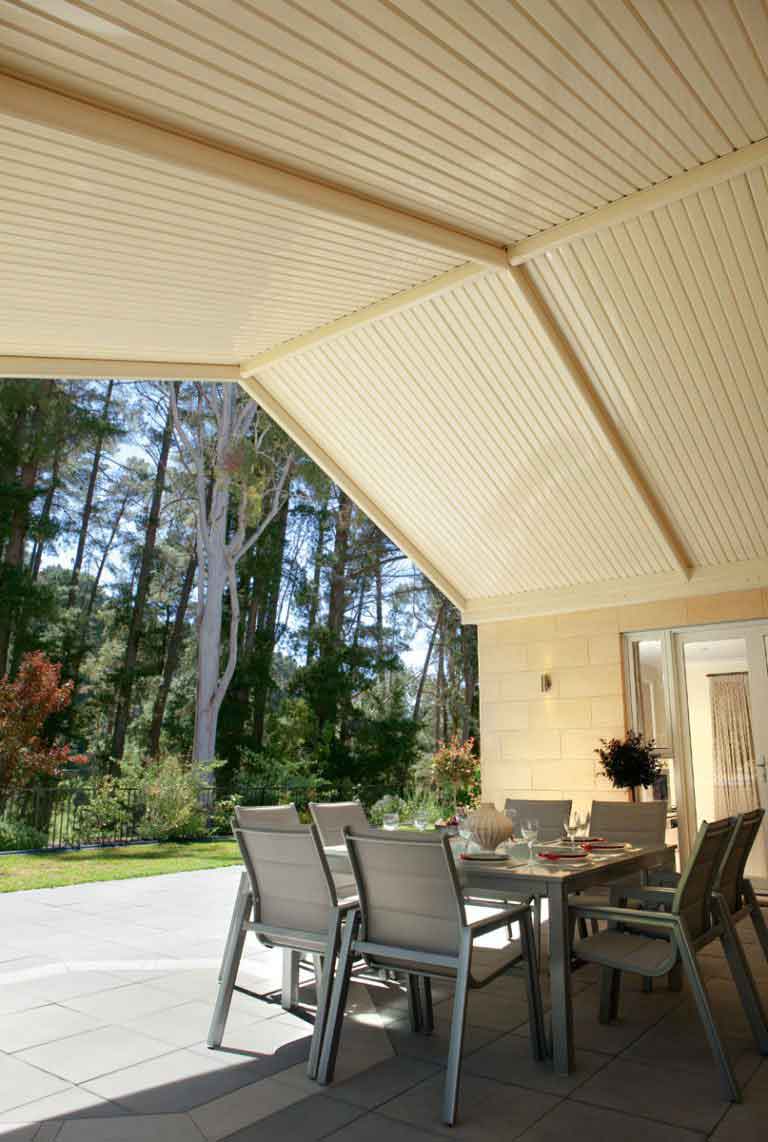 CLEARSPAN
The Outback Clearspan Gable adds flair and style to your home and outdoor living area in a distinctive manner.
The Clearspan is a gable design with great visual appeal and superior spanning capabilities. It features Outback deck as the roofing, and the strength of this roof sheeting means that purlins are not required, producing a wide spanning free flowing effect.
The clearspan has a high glossy ceiling like appearance from beneath and light panels are available where additional filtered light is required. The gable is available with a 22 degree pitch and maximum 7.5m opening.
The Stratco Multispan and Clearspan Gable are competitively priced and can be installed by authorised stratco dealers. The system has been engineered to relevant Australian Standards and fully tested and certified by independent Structural Engineers.
With Outdoor Impressions you can feel confident that your Stratco Outback verandah, patio, pergola or carport will be installed by a registered builder, licensed plumber and all relevant permits will be taken care of. We look forward to installing a verandah at your place, anywhere in Melbourne.
FLAT OUTBACK PATIO
Create an attractive and functional outdoor living area that will enhance your home and lifestyle with the smooth, simple, uncluttered lines of the classic Outback Flat Roof Verandah, Patio or Carport.
STRATCO VERANDAHS FLAT INSTALLERS IN MELBOURNE
Our team has years of experience in outdoor entertainment solutions, with a range of designs available to suit the style of any home.
When you're looking to give your home a great new outdoor space, insist on the genuine quality of the Stratco Outback verandah, patio and carport systems and enjoy the fresh air, outback style.
Using the strength of high tensile steel, our installations are innovative and versatile – we can meet all the challenges thrown at us on each and every job. The fluted steel columns are manufactured for optimum structural support and the underside of the roof is coloured to achieve a ceiling-like appearance.
From pavilions to patios, no matter how unique, we'll provide an impeccable result. Stratco Outback verandahs, carports and patios use only the best quality materials, and undergo strict testing by independent experts to ensure they meet all relevant requirements.
The designs have earned a reputation for innovation and durability through years of successful projects.
Contact us today on (03) 9728 5377 and we will be happy to work with you on delivering the best solution for your space.
OUTBACK FLAT STRATCO VERANDAHS
Each feature is carefully engineered to serve the function of our verandahs and carports without harming its appearance. Fastenings and brackets are coloured or concealed to keep the signature aesthetic of the design, and all necessary gutters and downpipes are included in the installation.
With a variety of colours to select from, you'll easily find a style that will achieve the look you need. You can also choose whether to construct a freestanding unit or attach it to the house.
Our steel verandahs also include:
Modern colours in high gloss

Smooth ceiling for simple cleaning and neat appearance

A variety of sizes and layouts

Spans of up to 4.5m

High tensile steel for all main components

Strong columns made with fluted steel

Lights and ceiling fan available

Gutters with a striking appearance

Overhang available for convenience

Installed standing on its own or attached to the house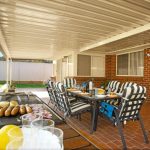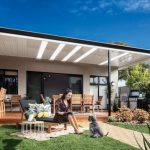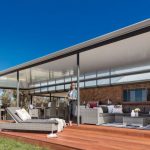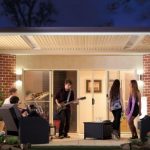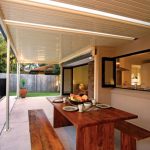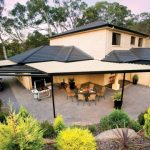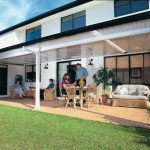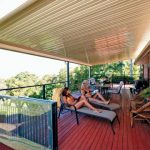 ULTIMATE DESIGN FLEXIBILITY
CONFIGURE TO COVER ANY AREA
Create a functional outdoor living area that will enhance your home and lifestyle with the smooth, simple, uncluttered lines of the classic Outback Flat Roof.
The versatile Outback Flat Roof system can be configured to cover any area around the home. It is ideal as a single unit or incorporated with a gable roof, curved roof, or pergola system.
Available as either a freestanding structure or attached to the home it can be used as a verandah, patio or carport. With the addition of the Outback Rooflite™ you can supply ltered light to the underside. The beams can span up to 8.4 metres and are available in either 120mm or 150mm sizes.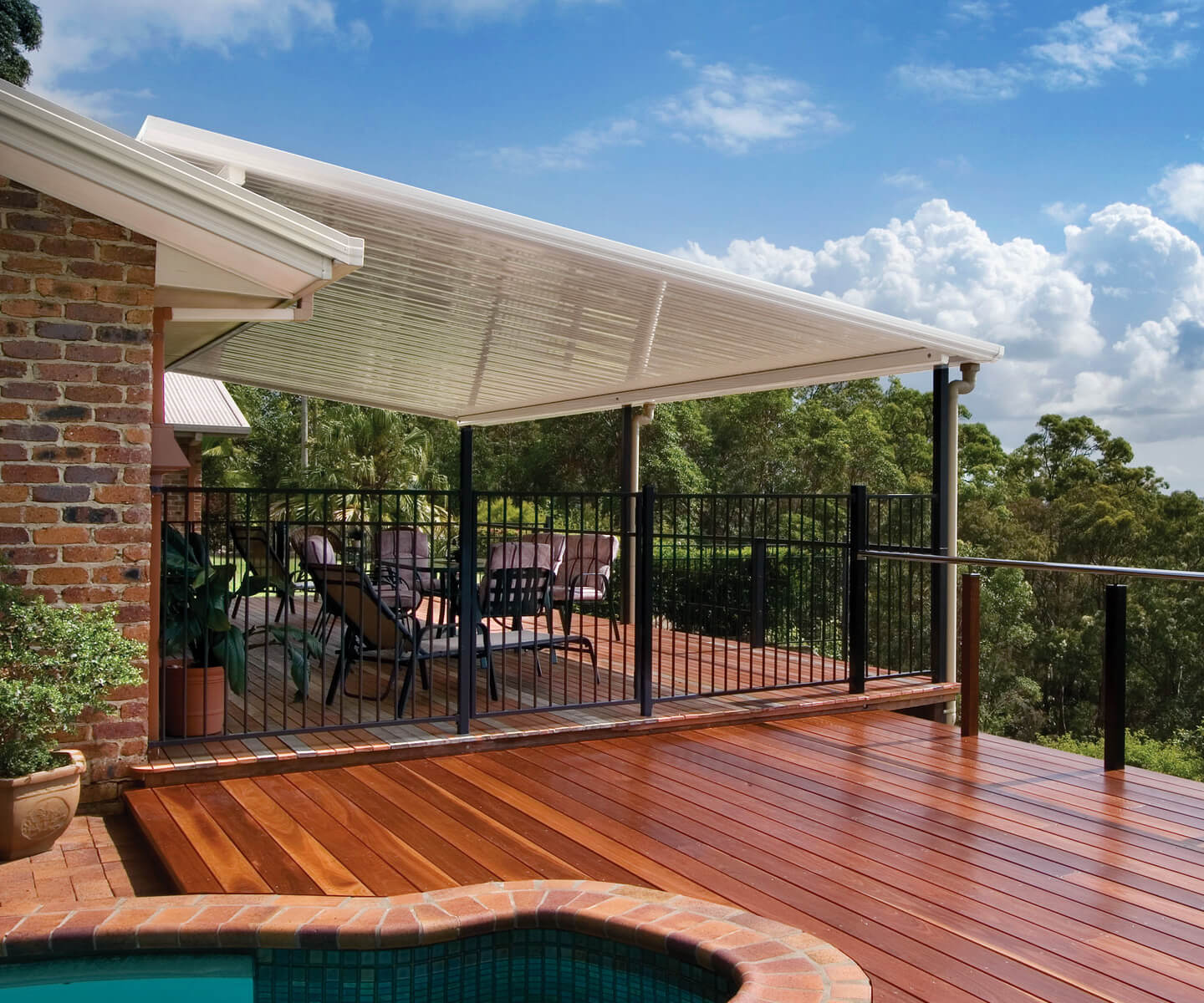 FOUR PATIO CONFIGURATIONS TO CHOOSE FROM:
Type One
A 4.5 metre maximum span and only requires an outside beam to support the structure, although most units use perimeter beams on all sides to provide the best appearance.
Type Two
The same as Type One, but with an overhang at the front to increase the covered area to 5.4 metres.
Type Three
Support beams span across the roof sheets, allowing them to run horizontally for a different appearance.
Type Four
Extra support beams and a purlin through the middle to give it a span of 8.4 metres.
CURVED VERANDAH
The contemporary form of the Stratco Outback Curved Roof Verandah, Patio or Carport will add value and impart a sense of style and sophistication to your home. The smooth, clean lines of the curved roof form a graceful canopy over any outdoor area.
STRATCO CURVED PATIO AND VERANDAH INSTALLERS IN MELBOURNE
The contemporary form of the Outback Curved Roof Verandah, Patio or Carport will add value and impart a sense of style and sophistication to your home.
The curved roof can span up to 6.6 metres wide in both Multispan and Clearspan designs. It is available as a unit attached to the home. When combined with at roof or pergola sections it becomes part of a system, with the elegant curved roof forming the central feature of the design.
Providing home owners with an impressive alternative to the Outback Gable, the Outback Curved Roof features modern styling.
The height of the unit comes it at one-eighth of the opening width, creating a smooth, sleek finish that flows from all sides of the steel verandah.
BENEFITS OF THE OUTBACK CURVED ROOF
A popular choice amongst steel verandahs for Melbourne homes

Able to be easily installed by the professional steel verandah builders at Outdoor Impressions

No knots, splits, twists or warping

Versatile colour schemes

Available in two styles: Multispan or Clearspan steel verandah designs

Weather resistant

Widths of up to 6.6m

The verandah builders at Outdoor Impressions can install the perfect Stratco Outback Curved Roof for your Melbourne home. Contact us for more information on how you can get started.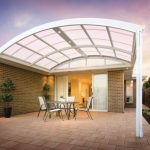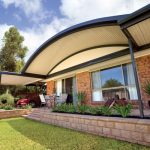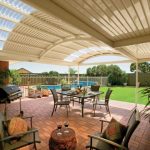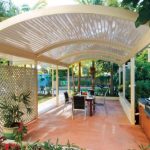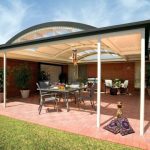 SMART DESIGN
Stratco designers work hard to give you smarter solutions for your outdoor living space, including:
Enclosed beams to discourage pests

Minimal framework for less cleaning

Fewer visible screws for a neater appearance

Self-locating brackets for easier installation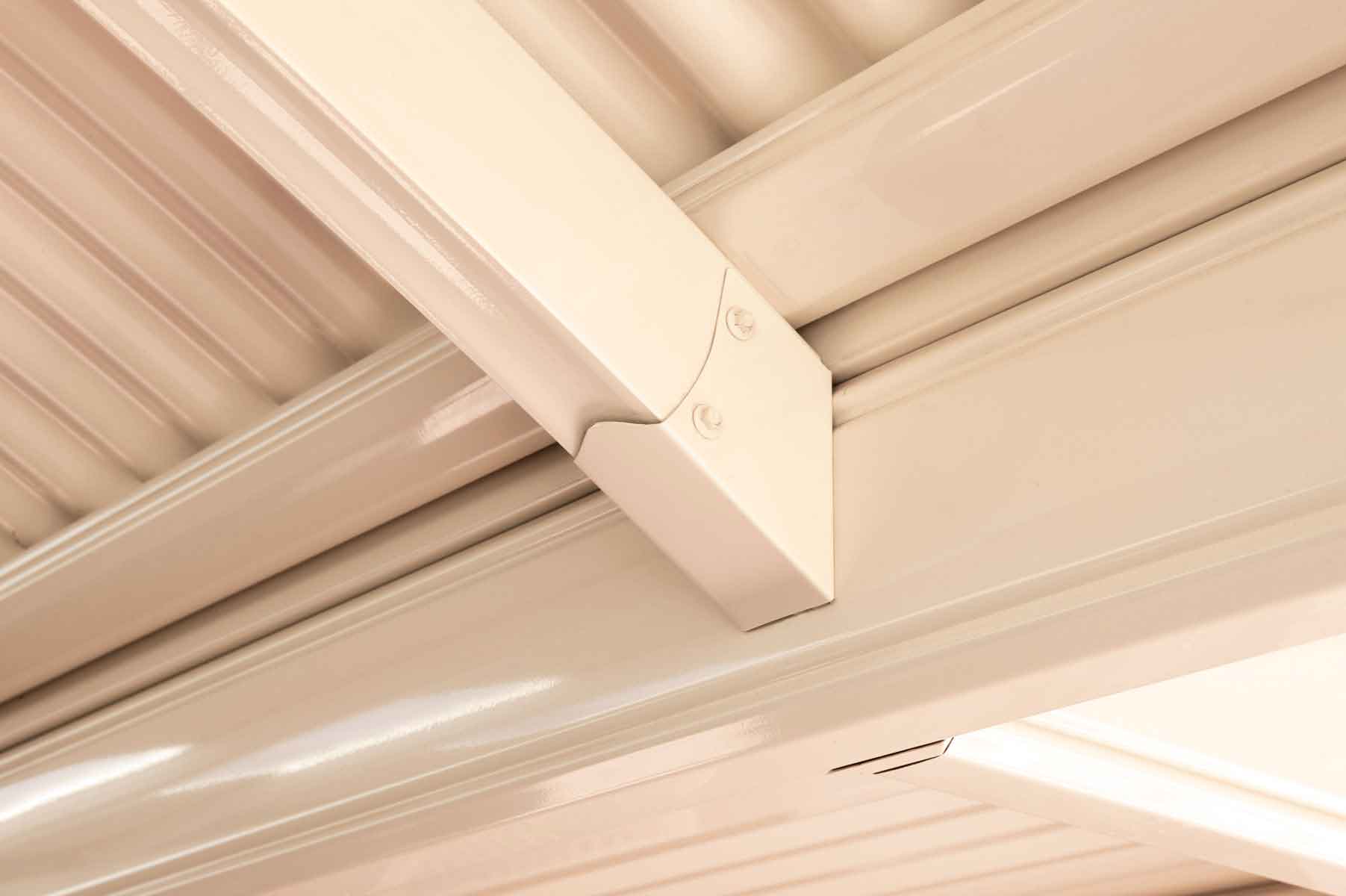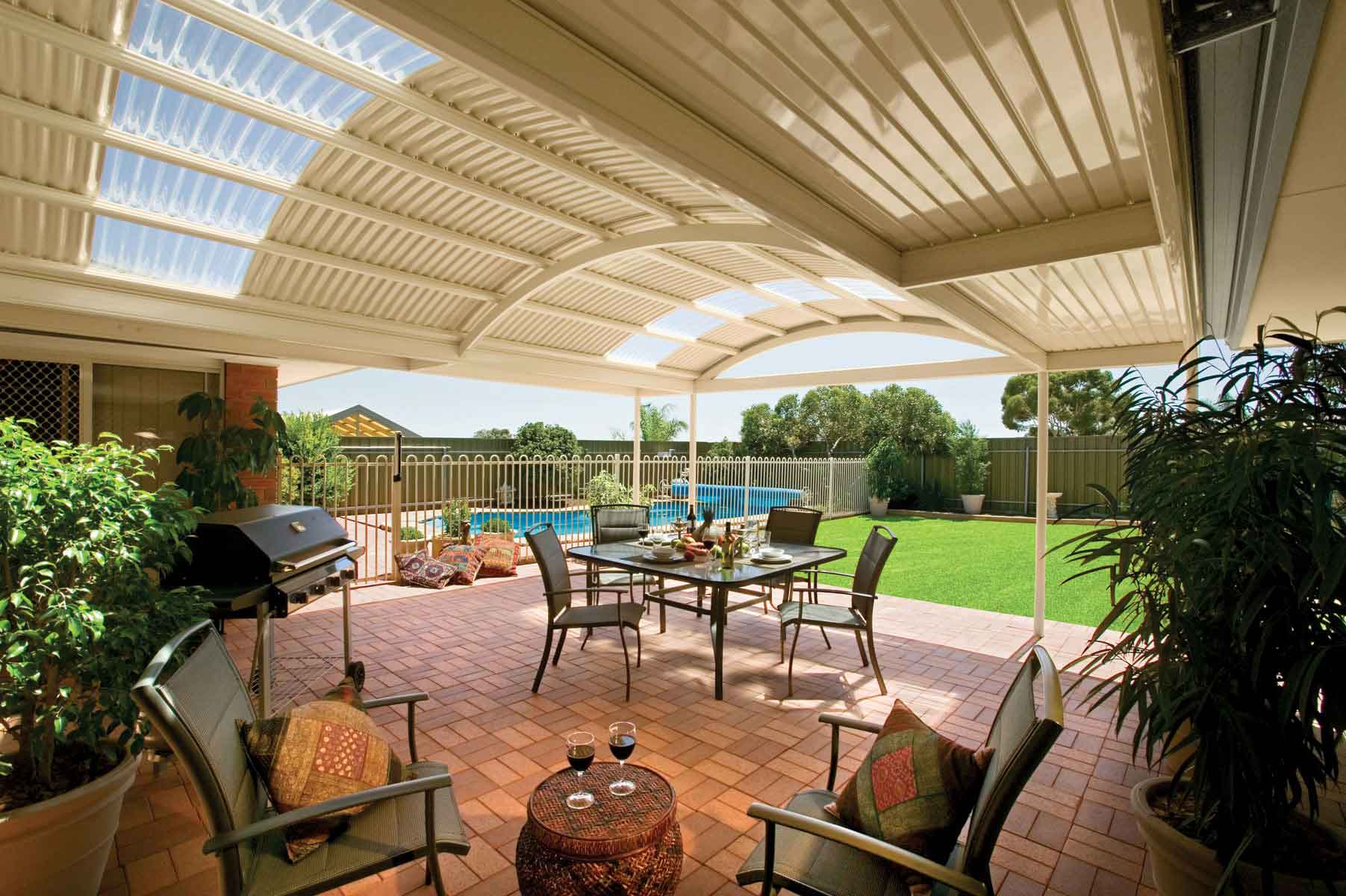 MULTISPAN
FOR ROOFING MATERIAL CHOICE
The Outback Multispan Curved Roof has purlins that are placed over the rafters in the roof. This supports your choice of cladding; from smooth Outback Deck, light and airy polycarbonate, or classic corrugated steel.
Excellent if you want to achieve a very particular colour or light level.
CLEARSPAN
FOR UNCLUTTERED CLEAN LINES
The Outback Clearspan Curved Roof minimises beams and rafters by using remarkably strong Outback Deck. This leaves the roof area clean and uncluttered with a ceiling-like appearance from beneath. It also makes cleaning easier with fewer 'nooks and crannies' to gather dust and pests. Roo ites are available to brighten your lifestyle space underneath.
TRUST RELIABLE PRODUCTS & EXPERIENCED INSTALLERS
In addition to the high standards of construction, you'll get peace of mind with a 15 year guarantee on structural quality. As we are properly authorised to install Stratco steel verandahs in Melbourne, you'll also get an installation guarantee for a full year once we've completed the project to ensure it's built to last.
Only products manufactured by Stratco have all of these features. Enjoy outdoor living with the genuine Stratco Outback range which pairs innovative design with the support of this national manufacturer.
Get a Stratco verandah installed by the fully registered team at Outdoor Impressions and see the value we add to your home.
Call today on (03) 9728 5377 or complete our contact form for the finest outdoor solutions in Melbourne.
Extensive Colour Range
The beautiful Stratco Outback and Pavilion ranges offer an incredible range of colours, whether you're looking to match or contrast with your existing home.
So whether you choose calming hues for your haven or bold tones for your entertaining area, or even filtered light for your family space, you will need a colour combination that's just right for you.
Speak to your Outdoor Impressions consultant for more great ideas and colour samples.
At Outdoor Impressions, we pride ourselves in providing high quality, reliable and personal service to all of our customers.
When you visit us, you don't just get a salesperson – you get a team member who's there to serve you to the best of their ability.
That means, they listen and you get what you need!
One of our sale representatives will contact you within one business day.
Get Free Measure & Quote!
Please fill out the form below and we will back to you soon.
Factory 1, 158 Canterbury Road Bayswater North VIC 3153
CONTACT US
Visit us:

Factory 1, 158 Canterbury Road, Bayswater, North Vic 3153