Professional Installations of Stratco Outback Products
Take a look through our range of innovative outdoor installations and choose the one that suits the style of your home. At Outdoor Impressions, we are an Authorised Dealer of Stratco products and complete constructions from their Outback range for homes all over Melbourne. Have a glance at the different styles and contact us for more information.
Browse the Outback range from Stratco
Gable
The Multispan and Clearspan Gable range provide versatile lifestyle and entertainment benefits for homes of any style – you'll be itching for any excuse to spend time outside.
Curved
Embrace contemporary style and add a touch of elegance to your home with a curved roof verandah. The design offers a beautiful and unique appearance to your yard.
Flat
Spend more time outdoors under a finely engineered flat roof verandah, with a smooth ceiling that comes in a selection of stylish colours that will add value to your home.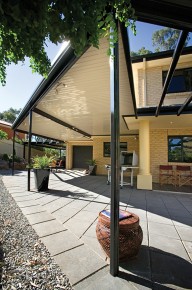 Sunroof
The Stratco Outback Sunroof lets you control the environment with motorised shutters that can be adjusted electronically by remote control to let the sunlight in or keep the wind and rain out. Perfect for seasonal weather in areas with diverse climates.
Heritage
Heritage shelters possess a signature style while being perfect for alfresco dining, carports and more. Combining unique design and a wide choice of colours, there's an option to suit any home.
Pergola
Outback Pergolas focus on eye-catching designs that are easy and intuitive to construct. With profiled ends, custom fittings and grooved connection sleeves, our team can produce a stunning pergola in no time at all.
Contact the experts
For more information on the Stratco range, give us a call on (03) 9728 5377 or send us a message through our contact form. We're happy to give you a free quote and are always available to answer any questions.

View video on Stratco's Outback Range (Running time 6m 30s)