Stratco Verandahs Flat Installers in Melbourne
Our team has years of experience in outdoor entertainment solutions, with a range of designs available to suit the style of any home. When you're looking to give your home a great new outdoor space, insist on the genuine quality of the Stratco Outback verandah, patio and carport systems and enjoy the fresh air, outback style.
Using the strength of high tensile steel, our installations are innovative and versatile – we can meet all the challenges thrown at us on each and every job. The fluted steel columns are manufactured for optimum structural support and the underside of the roof is coloured to achieve a ceiling-like appearance. From pavilions to patios, no matter how unique, we'll provide an impeccable result
Contact us today on (03) 9728 5377 and we will be happy to work with you on delivering the best solution for your space.
Outback Flat Stratco Verandahs
Adapt the versatile Outback Flat Patio to your home
Each feature is carefully engineered to serve the function of our verandahs and carports without harming its appearance. Fastenings and brackets are coloured or concealed to keep the signature aesthetic of the design, and all necessary gutters and downpipes are included in the installation.
With a variety of colours to select from, you'll easily find a style that will achieve the look you need. You can also choose whether to construct a freestanding unit or attach it to the house.
Our steel verandahs also include:
•Modern colours in high gloss
•Smooth ceiling for simple cleaning and neat appearance
•A variety of sizes and layouts
•Spans of up to 4.5m
•High tensile steel for all main components
•Strong columns made with fluted steel
•Lights and ceiling fan available
•Gutters with a striking appearance
•Overhang available for convenience
•Installed standing on its own or attached to the house
Stratco Outback verandahs, carports and patios use only the best quality materials, and undergo strict testing by independent experts to ensure they meet all relevant requirements. The designs have earned a reputation for innovation and durability through years of successful projects.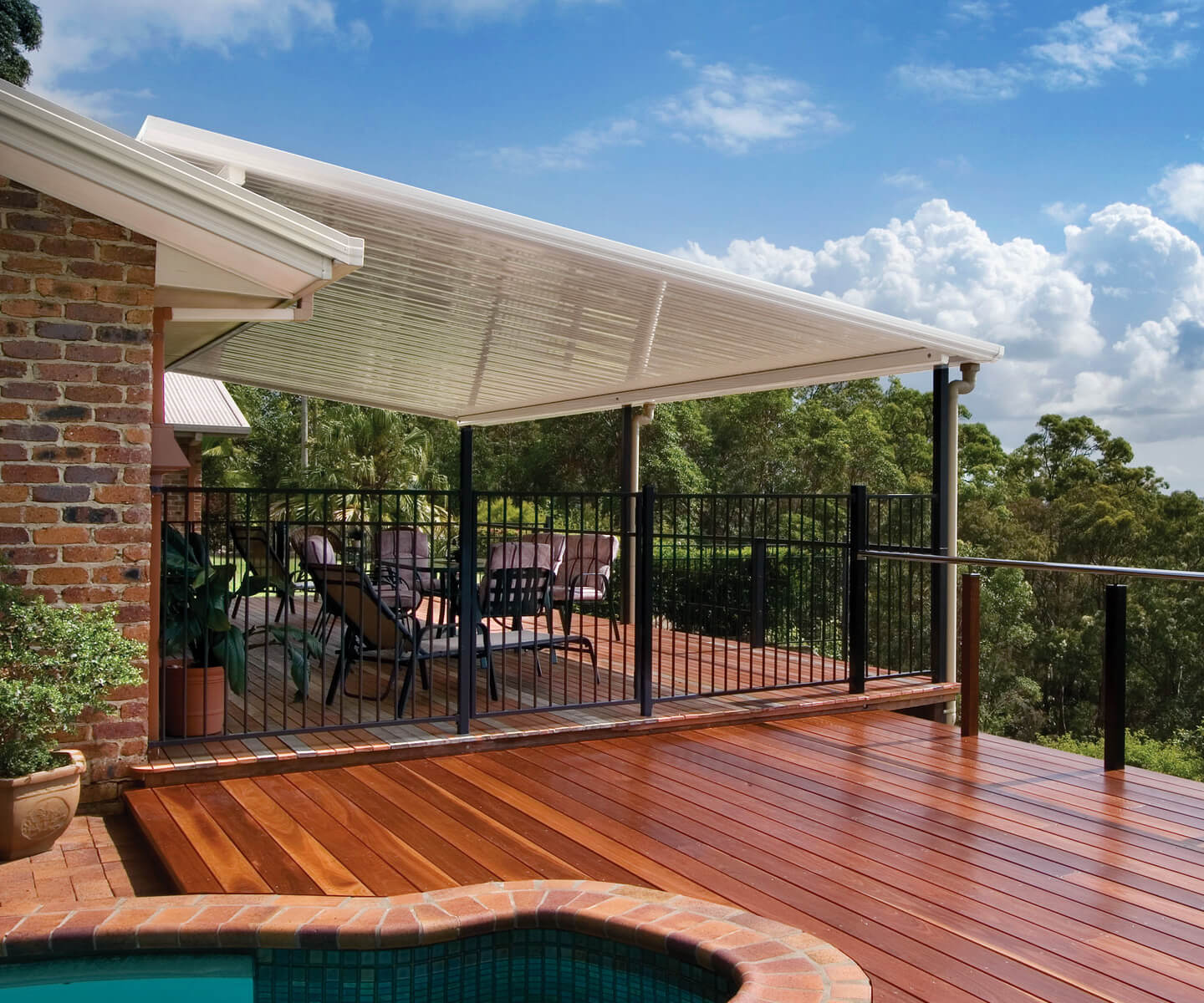 Ultimate Design Flexibility
Configure to cover any area
Create a functional outdoor living area that will enhance your home and lifestyle with the smooth, simple, uncluttered lines of the classic Outback Flat Roof. The versatile Outback Flat Roof system can be configured to cover any area around the home.
It is ideal as a single unit or incorporated with a gable roof, curved roof, or pergola system. Available as either a freestanding structure or attached to the home it can be used as a verandah, patio or carport. With the addition of the Outback Rooflite™ you can supply ltered light to the underside. The beams can span up to 8.4 metres and are available in either 120mm or 150mm sizes.
Four patio configurations to choose from:
Type One
A 4.5 metre maximum span and only requires an outside beam to support the structure, although most units use perimeter beams on all sides to provide the best appearance.
Type Two
The same as Type One, but with an overhang at the front to increase the covered area to 5.4 metres.
Type Three
Support beams span across the roof sheets, allowing to run horizontally for a different appearance.
Type Four
Extra support beams and a purlin through the middle to give it a span of 8.4 metres.
Extensive Colour Range
The beautiful Stratco Outback range offers an incredible range of colours, whether you're looking to match or contrast with your existing home.
So whether you choose calming hues for your haven or bold tones for your entertaining area, or even filtered light for your family space, you will need a colour combination that's just right for you.
Speak to your Outdoor Impressions consultant for more great ideas and colour samples.
Trust Reliable Products & Experienced Installers
In addition to the high standards of construction, you'll get peace of mind with a 15 year guarantee on structural quality. As we are properly authorised to install Stratco steel verandahs in Melbourne, you'll also get an installation guarantee for a full year once we've completed the project to ensure it's built to last.
Only products manufactured by Stratco have all of these features. Enjoy outdoor living with the genuine Stratco Outback range which pairs innovative design with the support of this national manufacturer.
Get a Stratco verandah installed by the fully registered team at Outdoor Impressions and see the value we add to your home.
Call today on (03) 9728 5377 or complete our contact form for the finest outdoor solutions in Melbourne.
Flat Outback Attached - Maximum Spans (mm)
Wind Speed
Type 1A 120 or 150 Beam
Type 2A 120
or 150 Beam
Type 3A
Type 4A
120 Beam
150 Beam
120 Beam
150 Beam
N1 (W28)
4500
4500
7200
8400
6000
8400
N2 (W33)
4500
4500
7200
8400
6000
8400
W36N
4500
4500
7200
8400
6000
8400
N3, C1 (W41)
4500*
4500*
7200
8400
6000
8400
N4, C2 (W50)
4500*
4500*
6000*
8400
6000
8400*
W55C
2700
3000
5400
7800
6000
6600
C3 (W60)
2700†
2700
4800
4800
5400
6600
* Applies to non-cyclonic designs only.
† Height limited to 2400mm.
Flat Outback Freestanding - Maximum Spans (mm)
Wind Speed
Type 1F 120
or 150 Beam
Type 2F 120 or 150 Beam
Type 3F
Type 4F
120 Beam
150 Beam
120 Beam
150 Beam
N1 (W28)
4500
4500
7200
8400
6000
8400
N2 (W33)
4500
4500
7200
8400
6000
8400
W36N
4500
4500
7200
8400
6000
8400
N3, C1 (W41)
4500*
4500*
7200*
8400
6000
8400*
N4, C2 (W50)
4500*
4500*
6000*
7200*
6000
7200*
W55C
3300
3300
4800
6000
5400
6000
C3 (W60)
3000†
3000
4200
5400
5100
6000
* Applies to non-cyclonic designs only.
Quote Block
So what're you waiting for? Elevate your home today with Melbourne's best pergolas, patios and carports built with only the best Aussie materials, exactly to suit your home!
Get the car under cover or extend the outdoor entertainment area with zero stress and no obligations- get a free quote today!
For a FREE Quote, just fill out this form and one of our team members will contact you within one business day.
Get Free Measure & Quote!
Please fill out the form below and we will back to you soon.
Quote Block
Factory 1, 158 Canterbury Road Bayswater North VIC 3153
CONTACT US
Visit us:

Factory 1, 158 Canterbury Road, Bayswater, North Vic 3153