Stratco Curved Patio and Verandah Installers in Melbourne
The contemporary form of the Outback Curved Roof Verandah, Patio or Carport will add value and impart a sense of style and sophistication to your home.
The curved roof can span up to 6.6 metres wide in both Multispan and Clearspan designs. It is available as a unit attached to the home. When combined with at roof or pergola sections it becomes part of a system, with the elegant curved roof forming the central feature of the design.
Providing home owners with an impressive alternative to the Outback Gable, the Outback Curved Roof features modern styling.
The height of the unit comes it at one-eighth of the opening width, creating a smooth, sleek finish that flows from all sides of the steel verandah.
BENEFITS OF THE OUTBACK CURVED ROOF
•A popular choice amongst steel verandahs for Melbourne homes
•Able to be easily installed by the professional steel verandah builders at Outdoor Impressions
•No knots, splits, twists or warping
•Versatile colour schemes
•Available in two styles: Multispan or Clearspan steel verandah designs
•Weather resistant
•Widths of up to 6.6m
The verandah builders at Outdoor Impressions can install the perfect Stratco Outback Curved Roof for your Melbourne home. Contact us for more information on how you can get started.











SMART DESIGN
Stratco designers work hard to give you smarter solutions
for your outdoor living space, including:
•Enclosed beams to discourage pests
•Minimal framework for less cleaning
•Fewer visible screws for a neater appearance
•Self-locating brackets for easier installation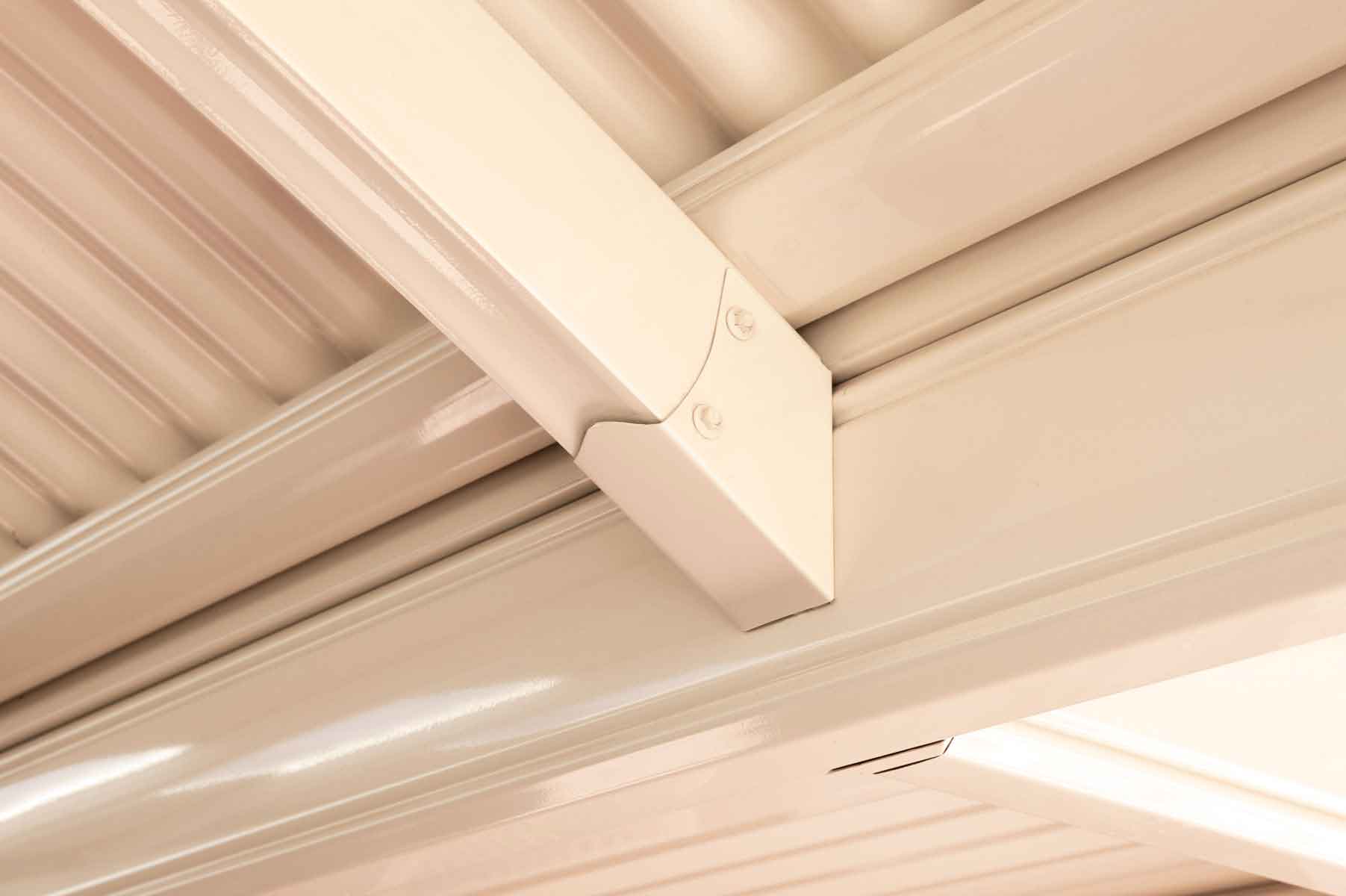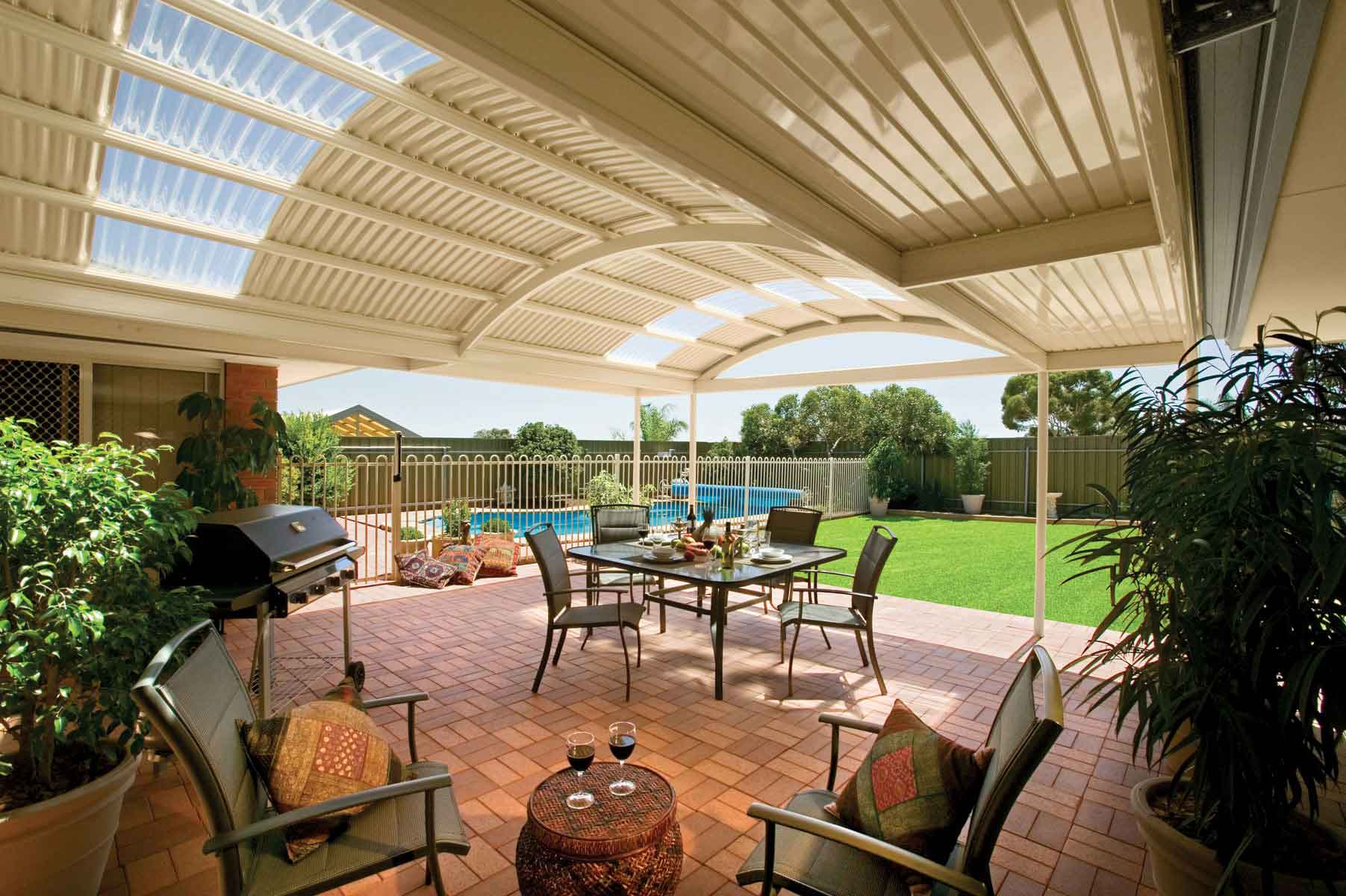 MULTISPAN
for roofing material choice
The Outback Multispan Curved Roof has purlins that are placed over the rafters in the roof. This supports your choice of cladding; from smooth Outback Deck, light and airy polycarbonate, or classic corrugated steel. Excellent if you want to achieve a very particular colour or light level.
CLEARSPAN
for Uncluttered Clean Lines
The Outback Clearspan Curved Roof minimises beams and rafters by using remarkably strong Outback Deck. This leaves the roof area clean and uncluttered with a ceiling-like appearance from beneath. It also makes cleaning easier with fewer 'nooks and crannies' to gather dust and pests. Roo ites are available to brighten your lifestyle space underneath.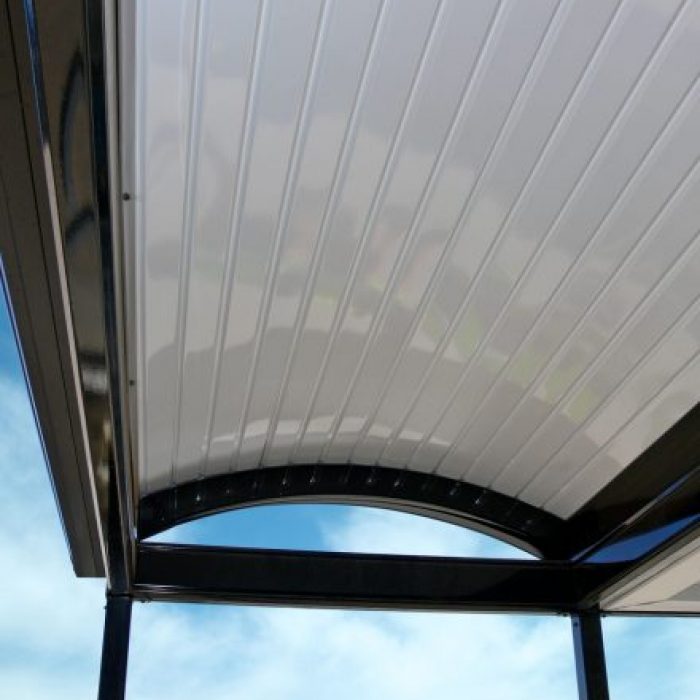 EXTENSIVE COLOUR RANGE
The beautiful Stratco Outback range offers an incredible range of colours, whether you're looking to match or contrast with your existing home.
So whether you choose calming hues for your haven or bold tones for your entertaining area, or even filtered light for your family space, you will need a colour combination that's just right for you.
Speak to your Outdoor Impressions consultant for more great ideas and colour samples.
Outback Multispan and Clearspan Curve - Maximum Opening (O) in mm
Wind Speed
Rear attached to a wall or fascia (full length)
Attached a to wall or fascia on one side only
Attached on one side and to the wall or fascia on one end using 120 or 150 Stratco Outback valley beams.
Attached to a flat unit on one side and a wall or fascia on the opposite side. Or attached both sides and to the wall or fascia one end using 120 or 150 valley beams.
120 or 150 Valley Beams
120 or 150 Valley Beams
120 or 150 Valley Beams
120 or 150 Valley Beams
Type 1A or 2A
Type 3A
Type 4A
Type 1A or 2A
Type 3A
Type 4A
N1 (W28)
4500
6600
6600
6600
6600
6600
6600
6600
N2 (W33)
4500
6600*
6600
6600
6600
6600
6600
6600
W36N
4500
6300*
6600
6600
6600
6600
6600
6600
N3 (W41)
4500
5700*
6600
5700
5400
6600
5700
5400
C1 (W41)
4500
5700*
6600
5700
5400
6600
5700
5400
N4 (W50)
4500
4200*
4500
4500
4800
4800
4500
4800
C2 (W50)
4500
4200*
4500
4500
4800
4800
4500
4800
W55C
3600
3600*
4200
3600
3000
4200
3600
4200
C3 (W60)
3600
3300*
3600
3000
3000
3600
3000
3300
* Minimum of four columns along the length of the gable unit on the opposite side of the attachment when solid infill is used.
N = Non-cyclonic wind classification.
C = Cyclonic wind classification.
At Outdoor Impressions, we pride ourselves in providing high quality, reliable and personal service to all of our customers.
When you visit us, you don't just get a salesperson – you get a team member who's there to serve you to the best of their ability.
That means, they listen and you get what you need!
One of our sale representatives will contact you within one business day.
Get Free Measure & Quote!
Please fill out the form below and we will back to you soon.
Factory 1, 158 Canterbury Road Bayswater North VIC 3153
CONTACT US
Visit us:

Factory 1, 158 Canterbury Road, Bayswater, North Vic 3153