A carport is a valuable investment for your vehicle and home. It shelters your car from the elements and any debris that may lead to costly damage.
This means protecting your car, caravan, or boat from the harsh summer sun and winter storms, or even the random sports ball coming in from the neighbours. It also makes everyday tasks more convenient. No one loves sitting in a scorching hot car that's been under the sun all day or having to load or unload a car in the pouring rain.
It can also function as an additional alfresco space for your home. With a variety of colours and styles available, you can easily choose a Stratco carport that blends seamlessly with your home's existing design.
Why Stratco Carports
When choosing carports in Melbourne or anywhere in Australia, you can't go wrong with Stratco. They're well-known for high-quality patios and carports—designed to withstand Australian weather conditions for years and years without losing their look and durability.
The Stratco Frontier is a well-designed carport, verandah, and patio system with great value for money. It's available in two varieties: in-ground and on-ground.
In-ground is concreted into the ground while the on-ground design comes with footing base plates.
The strong and durable steel frame design gives your car a safe, secure cover even from the worst weather and the largest debris. Your car also stays cool all year round thanks to its heavy-duty roof sheeting.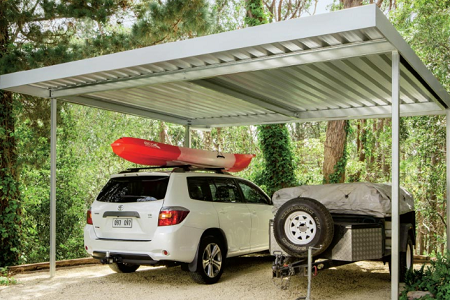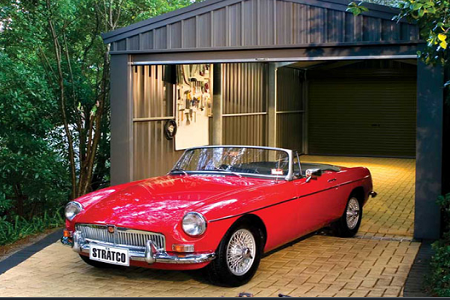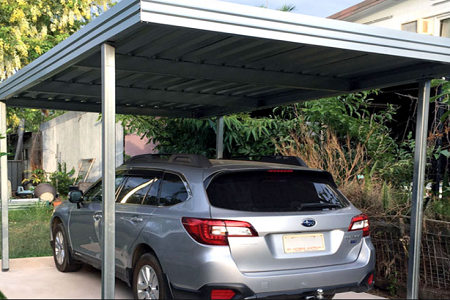 Why Choose Outdoor Impressions
Outdoor Impressions was established 15 years ago to help homeowners find a high-quality product that will last them a lifetime. We listen to your personal circumstances to match you with the solution that best suits your needs.
As an authorised Stratco dealer, we offer everything from the Stratco verandah range so we always have you covered, whatever your outdoor needs are. Your verandah, patio, or in this case your carport is built to last.
With over fifty years of combined experience, customers are confident that working with Outdoor Impressions is investing in the best.
With You All The Way
In Australia, it's the buyer's responsibility to obtain council approval prior to purchasing their carport, veranda, or patio. Each area has a different correct region, terrain category, and wind speed.
With Outdoor Impressions, you never have to do it on your own. We schedule a time for you to do a measure and a free quote to understand your specific needs. Once the design is finalised, we'll take care of any required permits then process the order for your materials with our Stratco manufacturer.
Our staff will work out an installation date at your convenient time, have the material delivered the day before, and we'll exert all effort to complete the job ahead or on time.
The Outdoor Impressions Promise
We have helped countless customers find high-quality, lifetime-engineered products designed for outdoor living. We work with utmost care so you have peace of mind that only comes from investing in the best.
If you're looking to install a carport in Melbourne, you've come to the right place. Call us to schedule your free measure and quote.
UTILISING THE LEADING DESIGN OF STRATCO CARPORTS
Both major styles we offer for steel carports can be installed on the side of your property or constructed as a freestanding unit. We use our expertise to find the best installation for your home, with attention to the unique circumstances of each and every job.
Dutch Gable
Available with a 22° pitch
Comes up to 7.5m wide and as long as 20m
Traditional Gable
Is available with a 22 or 30° pitch
Available in widths up to 8.4m and lengths up to 20m
https://www.outdoorimpressions.com.au/contact-us/
TALK TO US AND DISCOVER MORE ABOUT OUR RANGE
Contact us today on (03) 9728 5377 and we will be happy to work with you on delivering the best solution for your space. Our team has the experience and expertise with Stratco carports to provide advice and guidance, ensuring you choose the product that perfectly suits your lifestyle.
So what're you waiting for? Elevate your home today with Melbourne's best pergolas, patios and carports built with only the best Aussie materials, exactly to suit your home!
Get the car under cover or extend the outdoor entertainment area with zero stress and no obligations- get a free quote today!
For a FREE Quote, just fill out this form and one of our team members will contact you within one business day.
Get Free Measure & Quote!
Please fill out the form below and we will back to you soon.
Factory 1, 158 Canterbury Road Bayswater North VIC 3153
CONTACT US
Visit us:

Factory 1, 158 Canterbury Road, Bayswater, North Vic 3153