Anthony Davis
Hi I am Anthony Davis, the Manager of Outdoor Impressions and have been since its inception 6 years ago. It's been very rewarding to see Outdoor Impressions grow and become an independent business over the past 6 years.
Out of work I have a four year old son and a one year old daughter and a beautiful wife. I enjoy surfing and getting down to point Leo where I have been involved for many years with the surf life saving club.
We have a great team at Outdoor Impressions which makes it a pleasure to come to work each day. We hope that Outdoor Impressions continues to grow and develop into an even bigger and more successful business.
Paul Bennett
Hi I'm Paul and I'm a fairly recent addition to Outdoor Impressions having joined the team in April 2011. I have come on board as Sales Manager after spending 7 years working with a variety of verandah, carport and patio systems at Stratco.
I can help you design and then quote your ideal outdoor area to suit your personal needs.
Outside of the verandah install business I love everything and anything to do with sports and happen to be a gun middle order batsman in cricket season and at least once a month I am a magnificent golfer with a booming drive off the tee.
So give me a call and we can make a time to meet on site where I can measure your outdoor area and provide you with a obligation free quote.
Natalie Bannister
Hi I'm Natalie and I am currently the Office Coordinator for Outdoor Impressions. I have been working for Outdoor Impressions for the past year and have enjoyed the new challenges my role brings and enjoy the team environment that I work in.
In my spare time I like to hang out with friends, go shopping and also love to meet lots of new and exciting people.
I look forward to helping all my customers with any enquiries they may have.
Installers: Rob Baker, Ben Jones, Jovi Isaac, Gregory Mackenzie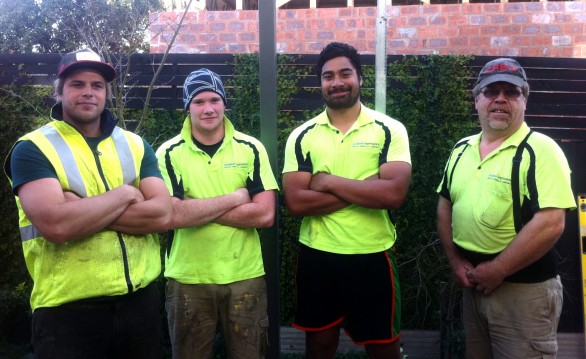 Ben Jones
Hi I'm Ben, I am a new addition to Outdoor Impressions only starting here in April 2011, I have gained a lot of skills and have been able to develop myself while being apart of the Outdoor Impressions team, I am currently completing my third year of a carpentry apprenticeship.
In my down time I enjoy going out with friends, taking my girlfriend out to the movies and also enjoy playing a range of sports.
Jovi Isaac
Hi I'm Jovi, I am a recent addition to the Outdoor Impressions team, I enjoy what my job entails and the people that I get to work with, I am currently completing my fourth year of a carpentry apprenticeship.
In my spare time I play rugby union, hang out with friends, and also enjoy spending quality time with my girlfriend of 8 years.
Greg Mackenzie
Hi I'm Greg, I have been apart of the Outdoor Impressions team now for about 12 months, before joining the team I worked in Scotland and England for two years with my wife. I am a huge car enthusiast and hope to one day own a hotrod with my son. I have really enjoyed working with Outdoor Impressions and I hope to learn and gain more skills.