CARPORTS MELBOURNE
A carport is a valuable investment for your vehicle and home in Melbourne, VIC. It shelters your car from the elements and any debris that may lead to costly damage.
This means protecting your car, caravan, or boat from the harsh summer sun and winter storms, or even the random sports ball coming in from the neighbours. It also makes everyday tasks more convenient. No one loves sitting in a scorching hot car that's been under the sun all day or having to load or unload a car in the pouring rain.
It can also function as an additional alfresco space for your home. With a variety of colours and styles available, you can easily choose a Stratco carport that blends seamlessly with your home's existing design.
It's always recommended to hire professionals to install your chosen carport to ensure it is installed properly. Here at Outdoor Impressions, we are dedicated to finding you the highest quality carport that will last a lifetime.


















CHOOSING HIGH QUALITY CARPORTS MELBOURNE
Some people have said that Melbourne goes through the four seasons in one day. This fickle weather might sometimes be tricky to gauge, what with windy weather, fluctuating temperatures and rainfall throughout the year.
So it's important that if you're wanting to keep your vehicle safe from the elements, you take the right precautionary measures to provide ample shelter and space when you park your car. Investing in carports Melbourne not only ensures protection no matter what the weather throws at you, but peace of mind, too.
MELBOURNE'S BEST CARPORTS
One of the single best ways to protect your car from potential hail, wind, sun or rain damage is a custom carport. From design to approval, all the way through to final unveiling, Outdoor Impressions can take you the whole way. Whether your house is blue, red, grey or pink there's a range of stratco products we'll use to build you a carport that perfectly complements your home.
While a single or double car garage might be a more secure and comprehensive protection option, a carport is less visually impactful, cheaper and quicker to build. For a solution perfectly tailored to your Melbourne home, get in touch today.
STRATCO CARPORT INSTALLERS MELBOURNE
Outdoor Impressions is the best and most trusted Carport installers in Melbourne, AU and it's easy to see why. Our no-fuss process means you're able to schedule a time to do a measure and a quote, finalise the design and colours of your custom carport, and get some assistance with organising your Planning, Building Permit, or Warranty Insurance. From then on, it's an easy process to get our experienced crew installing your brand new carport!
We've also got patio, pergola builders and verandah builders for all your outdoor living construction needs. Check out our recent projects to get a feel for what your new carport could look like.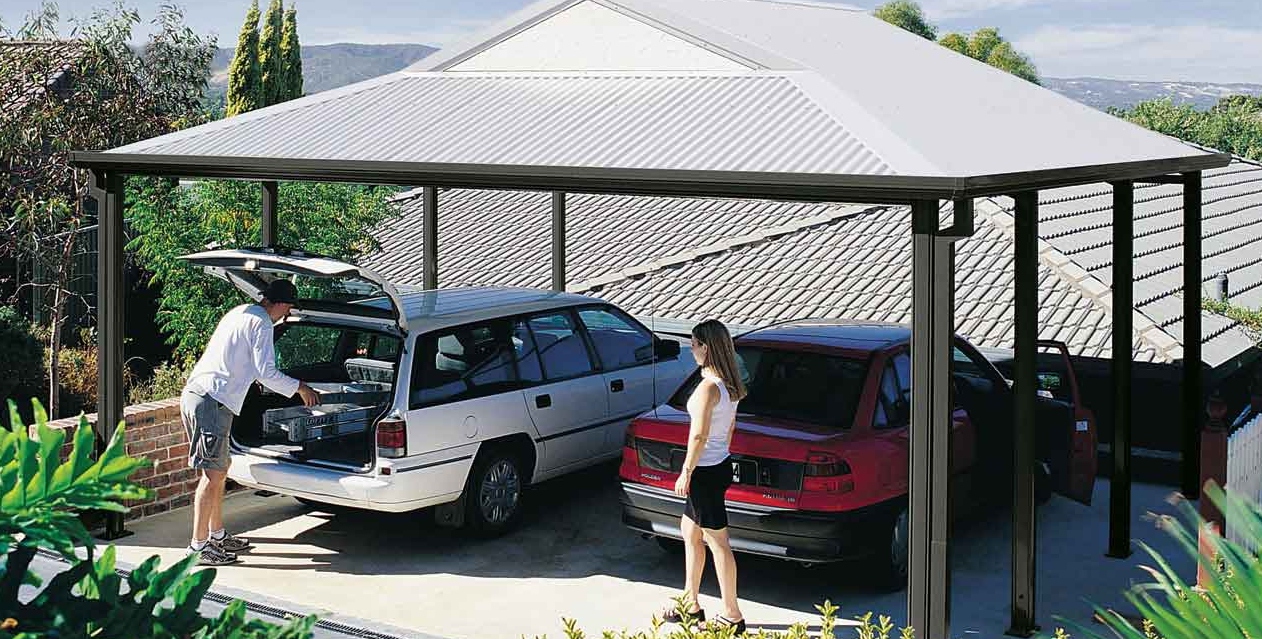 WHY STRATCO CARPORTS?
Control the climate, keep cool and experience outdoor living in comfort under a Stratco Outback® with Cooldek® roofing.
When incorporated with a Stratco Outback Patio the innovative Cooldek insulated panel provides a roof, insulation and ceiling like finish all in one product, with superior spanning capabilities and outstanding cooling performance.
Add value and extend your outdoor living all year round with a Stratco Outback and Cooldek Roofing.
WHAT IS A CARPORT?
A carport is a cost-effective way to protect your vehicle from outdoor elements. A semi-covered structure, it's designed to store your car safely, away from the damaging UV rays of the sun, which can cause paint to peel, as well as harsh winds, rain, and hail. Typically, a carport is open from at least two sides, though there are designs that can either be attached to the home, or be free-standing, making it easier to plan out your outdoor space.
HOW ARE CARPORTS INSTALLED?
It's always recommended to hire professionals to install your chosen carport to ensure it is installed properly. Here at Outdoor Impressions, we are dedicated to finding you the highest quality carport that will last a lifetime. We will work with you to understand your needs and requirements of your home, and will install your new carport.
When installing any outdoor structure, including a carport, it is important to check with your local council about the requirements of adding a new structure. They may have specific guidelines in place for carport installation, so it's important to check to avoid delays and setbacks.
Here at Outdoor Impressions, organising and managing permits for your specific installation is our job, so you can have peace of mind. We will discuss any potential permits required during the quoting stage, so you'll know exactly what's going on from the get-go.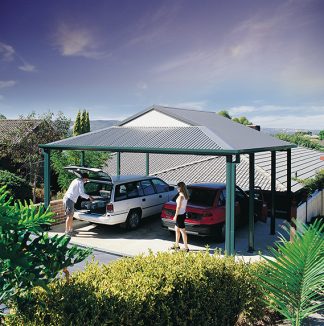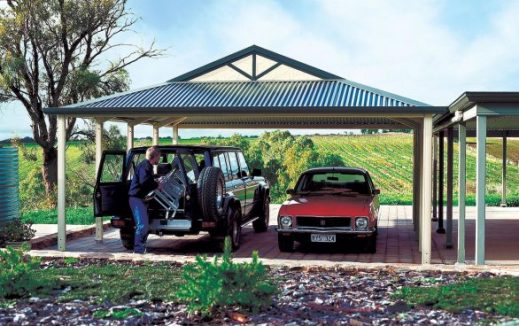 DOES A CARPORT ADD VALUE TO THE HOME?
If you don't already have a garage, a carport is easier to build, and is more affordable in terms of materials and labour needed to construct. This means that it's definitely the more affordable option when trying to protect your vehicle from the elements.
Carports offer a wide range of benefits for the homeowner:
Strong and durable, carports create security for your car, lowering your insurance premiums

They lessen the risk of UV ray damage, as well as harsh weather and debris

Carports look great and make a positive first impression of the home, tucking your vehicles away so that your home's exterior looks tidy and put together

They are fantastic for families, who may take a little longer to get into the vehicle and want to avoid rainy weather or harsh sun

The heavy duty roof will keep your car nice and cool in the summer – no more burning your hands on that hot steering wheel!

What's more, carports can be used to enhance your outdoor living areas. Not only are they perfect for protecting your car, but they are also a great space to host your next get-together. Place your outdoor seating underneath your perfect carport, and you've got a multipurpose outdoor living space to boot!
CARPORTS DESIGNS
Traditionally, timber carports were a popular choice for homeowners. However, recently, more and more clients have been going for the highest quality materials available and installing steel carports for durability and style.
When selecting carports in Melbourne, you can't go wrong with Stratco. These well-designed carports are built to last, and designed specifically for Australian weather conditions, making them effective and durable.
Get into contact with the experts at Outdoor Impressions to talk through potential design options that suit your home.
WHICH CARPORT IS RIGHT FOR ME?
It's important to keep your home's aesthetic and your requirements in mind when choosing a carport. This can help you to decide which carport is the best fit for your home, both visually and structurally.
You also have to take into consideration how much sheltered space you need for when you're utilising the carport for entertaining and outdoor living purposes, if that's something you're interested in.
Whatever you're after, there's a carport design out there that is perfect for your home.
UTILISING THE LEADING DESIGN OF STRATCO CARPORTS
Both major styles we offer for steel carports can be installed on the side of your property or constructed as a freestanding unit. We use our expertise to find the best installation for your home, with attention to the unique circumstances of each and every job.
Dutch Gable
Available with a 22° pitch
Comes up to 7.5m wide and as long as 20m
Traditional Gable
Is available with a 22 or 30° pitch
Available in widths up to 8.4m and lengths up to 20m
CARPORTS vs. VERANDAHS
It's important to note that not all properties might be suited for the installation of a patio.
If you're renting, for example, you'll want a space that's multipurpose, but also easy to install and dismantle when you need it. Carports can be a great outdoor solution that not only provide shelter for your vehicle, but also give you a sheltered outdoor space that can be used for entertaining or relaxation. Your imagination is the limit, and carports have been used in a huge range of creative ways. And whether you're renting another home and moving, or beginning your life in your very own home, you'll be able to take your carport with you, ensuring that your investment will keep being useful for the years to come.
Perhaps your property size isn't suitable for the installation of a patio due to lack of outdoor space. Verandahs are also a great way of extending your living area by installing a smaller wraparound space with roofing, perfect for entertaining guests, gardening, and even just sitting to watch the world go by in the privacy of your own property. The end result is an outdoor space that not only adds style to your home's facade, but also works with your space constraints. Our experts at Outdoor Impressions will be able to work with you to find out what fits your needs: whether it's a patio, a carport, a verandah, or a pergola.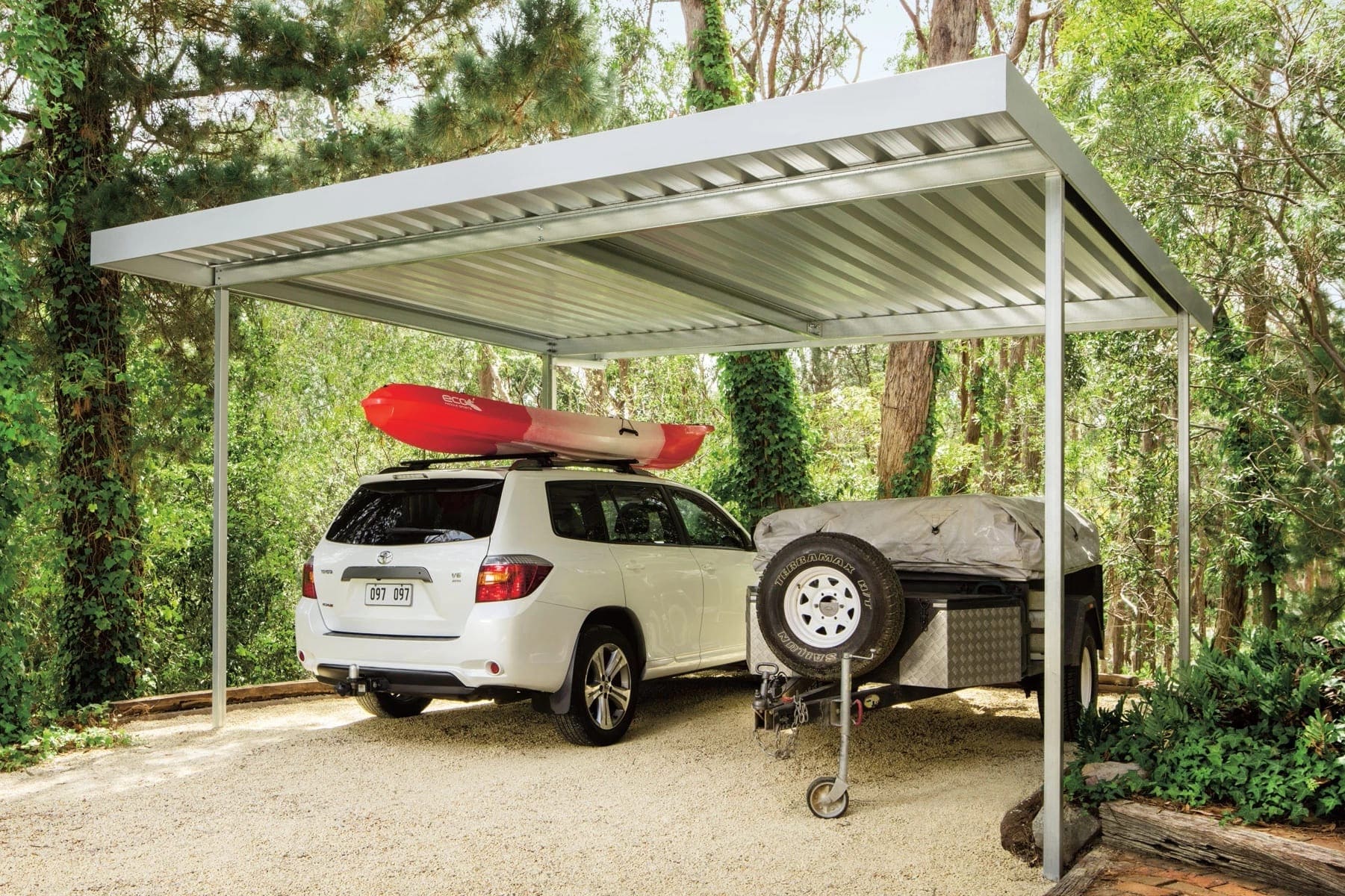 WHY CHOOSE OUTDOOR IMPRESSIONS
Outdoor Impressions was established 15 years ago to help homeowners find a high-quality product that will last them a lifetime. We listen to your personal circumstances to match you with the solution that best suits your needs.
As an authorised Stratco dealer, we offer everything from the Stratco verandah range so we always have you covered, whatever your outdoor needs are. Your verandah, patio, or in this case your carport is built to last.
With over fifty years of combined experience, customers are confident that working with Outdoor Impressions is investing in the best.
WITH YOU ALL THE WAY
In Australia, it's the buyer's responsibility to obtain council approval prior to purchasing their carport, veranda, or patio. Each area has a different correct region, terrain category, and wind speed.
With Outdoor Impressions, you never have to do it on your own. We schedule a time for you to do a measure and a free quote to understand your specific needs. Once the design is finalised, we'll take care of any required permits then process the order for your materials with our Stratco manufacturer.
Our staff will work out an installation date at your convenient time, have the material delivered the day before, and we'll exert all effort to complete the job ahead or on time.
THE OUTDOOR IMPRESSIONS PROMISE
We have helped countless customers find high-quality, lifetime-engineered products designed for outdoor living. We work with utmost care so you have peace of mind that only comes from investing in the best.
If you're looking to install a carport in Melbourne, you've come to the right place. Call us to schedule your free measure and quote.
Extensive Colour Range
The beautiful Stratco Outback range offers an incredible range of colours, whether you're looking to match or contrast with your existing home.
So whether you choose calming hues for your haven or bold tones for your entertaining area, or even filtered light for your family space, you will need a colour combination that's just right for you.
Speak to your Outdoor Impressions consultant for more great ideas and colour samples.
TALK TO US AND DISCOVER MORE ABOUT OUR RANGE
Contact us today on (03) 9728 5377 and we will be happy to work with you on delivering the best solution for your space. Our team has the experience and expertise with Stratco carports to provide advice and guidance, ensuring you choose the product that perfectly suits your lifestyle.
At Outdoor Impressions, we pride ourselves in providing high quality, reliable and personal service to all of our customers.
When you visit us, you don't just get a salesperson – you get a team member who's there to serve you to the best of their ability.
That means, they listen and you get what you need!
One of our sale representatives will contact you within one business day.
Get Free Measure & Quote!
Please fill out the form below and we will back to you soon.
Factory 1, 158 Canterbury Road Bayswater North VIC 3153
CONTACT US
Visit us:

Factory 1, 158 Canterbury Road, Bayswater, North Vic 3153